OFFICE/CORPORATE OFFICE Design
Office is The Second Home.We have a family there too! We specialize in planning, designing & providing solutions, while keeping in mind to maintain that balance between commercial requirements & increasing environmental facilities so that our design inspires people to work more productively. our services also specialize in office relocating, office refurbishment, office fit-out and office furniture.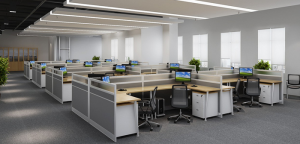 A corporate office is a giant conglomerate that has a life of its own. But we go into the details.We work with a vision, that spreads itself through every inch& creates a uniquely designed working environment. A working space can be divided into the following types: Open office-suitable for frequent interactions or communications, Team Space-enclosed space for up to max. 8 people for internal communication, Cubicle-A partially enclosed space for 1 employee, who requires medium interaction, Private office- this space is suitable for confidential works, demanding lots of Concentration. Other features of a office include- Study booth, Work lounge (lounge for working with collaboration with others), Touch down area ( open work space for one person for short-term activities), meeting spaces & brainstorm room for workshops& idea-generating sessions. For recreational purposes, an office should have Pantry area-for beverage & snacks, break area- for taking a break from work, library-with books, journals & magazines & games area-with computer games pools & darts.