Residential /Apartment design
Our work experience in the residential sector is huge & massive. The interior of a residence separates it from all the outside chaos, surrounding it. Winux Interior's work to make it a fortress. As far as small Apartment design is concerned, size does not matter, Quality of living matters. We specialize in planning & designing your apartment in such a way so that it creates great environment & recreational opportunities.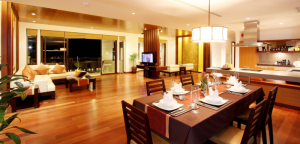 We have a dynamic team to do specific space-oriented Interiors for living room, family living, dining room, master bed or child bed rooms, kitchens. For instance, if you do not need the full-house interior, we will work on only those specific parts & make it blend as a whole. We work to create a separate identity from exterior, which comprises of a entry foyer where guests are received & in large houses the rooms are connected via corridors, passageways or more foyers. We try to create a balanced plan so that in a multiple bedroom design, the public spaces such as the living & dining room do not get engulfed by the private or semi-private areas.