Restaurant & Cafe Design
We are  restaurant & cafe design specialist. Restaurant & Cafe  can be a catalyst for positive change & wonderful hang-out place for public.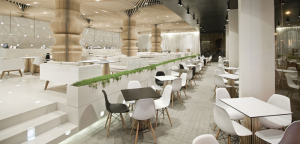 We tailor our design & planning in such a way so that it would only uniquely go well with your brand.Our creatively designed spaces within the design,would also help you to advertise, for your restaurant or Cafe.
We  specialize in unique,out-of the box cafe & restaurant design ideas. we will work with every inch of every wall of the project, making your cafe and restaurant a regular hang-out place for the public.
The variation in restaurant design comes from the different kinds of materials used, bringing in different textures, the variation is also created by the types of restaurant kitchen arrangements as in open kitchen, where the diners can almost see the food being made like in some branches of KFC or enclosed kitchens & even in the type seating arrangements,keeping in mind to create connections between the in-door or out-door arrangements.
We specialize in providing assertive design schemes for restaurants, working with varying materials & textures, back-drop walls, false ceilings, lighting system, creative designs seating arrangements, custom designed counter areas but staying within the budget of the client. We know that customers  do not only visit restaurants to satisfy their basic appetites for food or beverages, we know that the customers come for the social opportunities so we work on the interior details in such a way so that it occupies the imagination of the restaurant's clientele so our design would  increase their appetite for a return visit.